Fifty Plus First Aid Training - Online


This course provides basic first aid awareness training and accident prevention to adults over the age of 50. Areas of focus include providing care for partners and dealing with incidents involving younger members of the family. There is also a small section on pet first aid.
After this course, the learner will have a greater understanding of the possible injuries and illnesses that could affect all age groups. He/she will understand why immediate professional care is vital to ensure that pain and suffering is reduced as much as possible and will have more confidence to deal with an emergency situation, should it arise.
This course can be completed 100% online and is independently certified as conforming to the universally accepted Continuous Professional/ Personal Development guidelines, all ProTrainings first aid courses follow ERC 2010 Guidelines and UK Resuscitation Council Guidelines
How do I get started?
Click here for your
First Aid and Safety for the over 50s course
information and get started straight away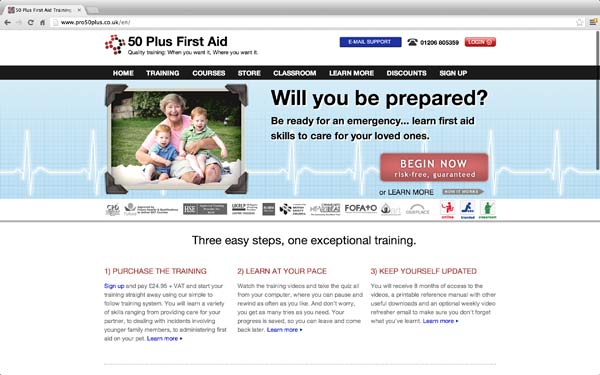 What is included?
All students receive access to their chosen course for up to eight months
Optional Free weekly video refresher
Certificate
Verified CPD time credit statement
Reminder when your course is due for renewal
Companies receive an interactive dashboard where they can monitor all of their employees training on the system
Companies also receive their own dedicated account manager
Groups & Business Discounts
Groups and business purchasing multiple courses will qualify for discounted course rates, please call the ProTrainings sales team direct on 01206 805359 to discuss how they can help you with your training requirements.
Curriculum:
Introduction to first aid
How and when to call the medical professionals
Accidents and how to avoid them
Using appliances to make your life easier and safer
Keeping safe in an emergency
Gloves and infection control
Keeping you free from infection, keeping wounds clean
First aid kits
Unconscious patient and recovery position
Heart attack, angina and chest pain
CPR
Chest only compressions
What the paramedics will do and AED units
Choking
Bleeding and cuts
Spinal injury
Types of shock and treatment
Breaks, fractures, sprains and strains
Burns
Eye injuries
Heat and cold emergencies
Stroke
Diabetes and nutrition problems
Breathing problems and asthma
First aid on children
First aid on infants
Car accidents
First aid on pets
Summary and keeping skill fresh