Appointed Persons Course Online- Video Based CPD Certified Training



Businesses in the UK have to make correct provision for first aid in the workplace and the Appointed Persons course is ideal for small businesses and large businesses who would like additional persons to assist the first aider in case of emergency. The appointed person course is not HSE approved but is delivered under the HSE recommendations and requirements. This course is 100% online saving you time and money to comply with your training requirements. The certificate is valid for 3 years and to renew you complete another appointed persons course.
The ProTrainings Appointed persons online course is also available as a classroom based course both options cover the same course content.
This course can be completed 100% online at a time to suit you, the course doesn't have to be taken in one go, you can leave and come back to it as many times as you like, for up to eight months, enabling you to use it as a reference or refresher.

This is not a powerpoint-based course, it is delivered via a series of short informative videos giving you 1 on 1 training with a professional instructor without the distraction and the inconvenience and cost of attending a classroom course. You will be asked a series of questions throughout the course to test your knowledge as you go and there is a short test at the end which you complete before printing out your certificate and CPD certified time credit statement..
The content of this and all ProTrainings courses has been independently certified as conforming to universally accepted Continuous Professional Development (CPD) guidelines and come with a Certified CPD Statement as well as a ProTrainings Certificate and for online courses an Evidence Based Learning statement.
How do I get started?
To start your your Appointed Persons in the Workplace Course Online click here and you will be taken directly to your training or if you have have any questions or would like to discuss group discounts or multiple course bookings please contact ProTrainings direct on 01206 805359 or fill out our online form.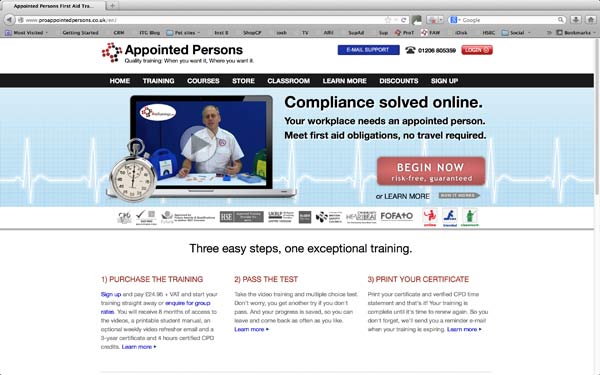 What is included in the Online Appointed Persons Course?
All students receive access to their chosen course for up to eight months
Free Appointed Person digital student manual V5
Other free useful downloads and links
Optional free weekly video refresher
Certificate
Verified CPD time credit statement
Reminder when your course is due for renewal
Companies receive an interactive dashboard where they can monitor all of their employees training on the system
Companies also receive their own dedicated account manager
Groups & Business Discounts - Classroom options also available
Groups and business purchasing multiple courses will qualify for discounted course rates, please call the ProTrainings sales team direct on 01206 805359 to discuss how they can help you with your training requirements.
Curriculum:
Introductory First Aid Training

Fears of First Aid
Asking Permission to Help
Scene Safety
Chain of Survival
ABCD's
Initial Assessment
Stop Think Act
Barriers
Face Shields

Cardiac Arrest

Adult CPR
Adult CPR Hand Over
Compression Only CPR
AED
Heart Attack
Drowning

Choking Training

Conscious Adult Choking
Unconscious Adult Choking

Bleeding Control

Types of Bleeding
Serious Bleeding
Plasters
Other injuries

Other medical conditions

Spinal Injury
Burns
Shock
Epilepsy
Adult Seizures
First Aid at Work Rules and Regulations