Online / Blended Paediatric First Aid Training for Childminders Nannies and AuPairs.




ProTrainings are the only company to offer a viable alternative to the 2 day classroom training required for Childminders and carers who need to comply with the requirements of Ofsted, EYFS and SureStart.

The blended course offers a video based online course that is completed before attending a full day in the classroom with an instructor to complete the practical part of the course. The ProTrainings Paediatric course is approved by most councils across the UK and is available as a QCF Accredited course if required. If you are a nursery or playgroup or agency who have a group who need training ProTrainings can arrange for a fully qualified tutor to come to you to deliver either the day 2 of the blended course or the full 2 day classroom course, to enquire please click here

This course offers an excellent alternative for those who are simply unable to spare the time to attend 2 days in a classroom only course. When you have successfully completed both the online and classroom modules, you will be issued a ProTrainings wall certificate and wallet card.

This is not a powerpoint-based course, it is delivered via a series of short informative videos giving you 1 on 1 training with a professional instructor without the distraction and the inconvenience and cost of attending a classroom course. You will be asked a series of questions throughout the course to test your knowledge as you go and there is a short test at the end which you complete before printing out your certificate and CPD certified time credit statement, you then take your printed certificate to one of ProTrainings Instructors to complete the practical part of the course.
The content of this and all ProTrainings courses has been independently certified as conforming to universally accepted Continuous Professional Development (CPD) guidelines and come with a Certified CPD Statement as well as a ProTrainings Certificate and for online courses an Evidence Based Learning statement.

How do I get started?
To start your Blended Two Day Paediatric First Aid click here or if you have have any questions or would like to discuss group discounts or multiple course bookings please contact ProTrainings direct on 01206 805359 or fill out our online form.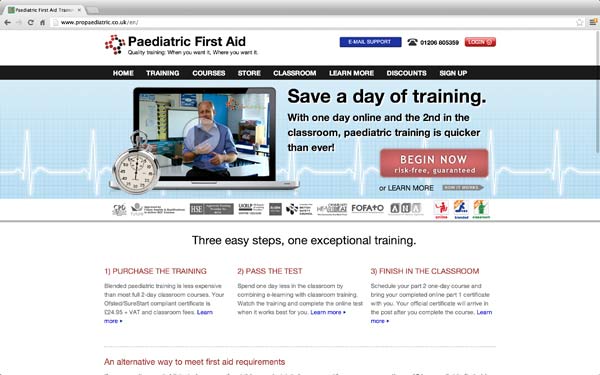 What is included?
All students receive access to their chosen course for up to eight months
Free digital student manual
Other free useful downloads and links
Optional free weekly video refresher
Certificate
Verified CPD time credit statement
Reminder when your course is due for renewal
Companies receive an interactive dashboard where they can monitor all of their employees training on the system
Companies also receive their own dedicated account manager
Groups & Business Discounts
Groups and business purchasing multiple courses will qualify for discounted course rates, please call the ProTrainings sales team direct on 01206 805359 to discuss how they can help you with your training requirements.
Curriculum:
Planning for First Aid Emergencies
Dealing with emergencies
Activating the emergency services and identifying the need to call the EMS
First Aid kits and accident reporting
Unconscious but breathing (Recovery Position)
Resuscitation Procedures Appropriate to the Age of the Children being cared for
Adult, Infant and Child CPR
Drowning
Choking and choking becoming unconscious after choking
Recognising and Responding Appropriately to:

Spinal Injury
Shock
Injury and Illness assessment
Anaphylactic Shock
Electric Shock
Serious Bleeding and minor bleeding
Nose bleeds
Foreign Objects in the body
Burns and Scalds
Suspected Fractures
Head, Neck and Back Injuries
Cases of Poisoning
Foreign Bodies in Eyes and Noses
Eye Injuries
Bites and Stings
Effects of Extreme Heat and Cold
Febrile Convulsions
Emergency Needs of Children with Chronic Medical Conditions: Epilepsy, Asthma, Sickle Cell Anaemia and Diabetes
Meningitis and other Serious Sudden Illnesses
Course Aims and Learning Outcomes (standard and QCF versions):
Unit 1: Paediatric Emergency First Aid
1     LO1: Understand the role of the paediatric first aider
1.1  Identify the responsibilities of a paediatric first aider
1.2  Describe how to minimise the risk of infection to self and others
1.3  Describe suitable first aid equipment, including personal protection, and how it is used appropriately
1.4  Identify what information needs to be included in an accident report/incident record, and how to record it.
1.5  Define an infant and a child for the purposes of first aid treatment
2     LO2: Be able to assess an emergency situation and act safely and effectively
2.1  Demonstrate how to conduct a scene survey
2.2  Demonstrate how to conduct a primary survey on an infant and a child
2.3  Identify when and how to call for help
3     LO3: Be able to provide first aid for an infant and a child who is unresponsive and breathing normally
3.1  Demonstrate how to place an infant and a child into the appropriate recovery position
3.2  Describe how to continually assess and monitor an infant and a child whilst in your care
4     LO4: Be able to provide first aid for an infant and a child who is unresponsive and not breathing normally
4.1  Identify when to administer CPR to an unresponsive infant and an unresponsive child who is not breathing normally
4.2  Demonstrate how to administer CPR using an infant and a child manikin
4.3  Describe how to deal with an infant and a child who is experiencing a seizure
5     LO5: Be able to provide first aid for an infant and a child who has a foreign body airway obstruction
5.1  Differentiate between a mild and a severe airway obstruction
5.2  Demonstrate how to treat an infant and a child who is choking
5.3  Describe the procedure to be followed after administering the treatment for choking
6     LO6: Be able to provide first aid to an infant and a child who is wounded and bleeding
6.1  Describe common types of wounds
6.2  Describe the types and severity of bleeding and the affect that it has on an infant and a child
6.3  Demonstrate the safe and effective management for the control of minor and major external bleeding
6.4  Describe how to administer first aid for minor injuries
7     LO7: Know how to provide first aid to an infant and a child who is suffering from shock
7.1  Describe how to recognise and manage an infant and a child who is suffering from shock
7.2  Describe how to recognise and manage an infant and a child who is suffering from anaphylactic shock
Unit 2: Managing paediatric illness and injury
1     LO1: Be able to provide first aid to an infant and a child with a suspected fracture and a dislocation
1.1  Describe the common types of fractures
1.2  Describe how to manage a fracture
1.3  Describe how to manage a dislocation
1.4  Demonstrate the application of a support sling and an elevation sling
2     LO2: Be able to provide first aid to an infant and a child with a head, a neck and a back injury
2.1  Describe how to recognise and manage head injuries including; Concussion, Skull fracture and Cerebral compression
2.2  Demonstrate how to manage a suspected spinal injury
3     LO3: Know how to provide first aid to an infant and a child with conditions affecting the eyes, ears and nose
3.1  Describe how to manage an infant and a child with foreign bodies in their eyes, ears and nose
3.2  Describe how to recognise and manage common eye injuries
4     LO4: Know how to provide first aid to an infant and a child with a chronic medical condition or sudden illness
4.1  Describe how to recognise and manage chronic medical conditions including: Sickle cell anaemia, Diabetes and Asthma
4.2  Describe how to recognise and manage serious sudden illnesses including: Meningitis and Febrile convulsions
5     LO5: Know how to provide first aid to an infant and a child who is experiencing the effects of extreme heat and cold
5.1  Describe how to recognise and treat the effects of extreme cold for an infant and a child
5.2  Describe how to recognise and treat the effects of extreme heat for an infant and a child
6     LO6: Know how to provide first aid to an infant and a child who has sustained an electric shock
6.1  Describe how to safely manage an incident involving electricity
6.2  Describe first aid treatments for electric shock incidents
7     LO7: Know how to provide first aid to an infant and a child with burns or scalds
7.1  Describe how to recognise the severity of burns and scalds to an infant and a child and respond accordingly
7.2  Describe how to treat burns and scalds to an infant and a child
8     LO8: Know how to provide first aid to an infant and a child who has been poisoned
8.1  Describe how poisons enter the body
8.2  Describe how to recognise and treat an infant and a child affected by common poisonous substances, including plants
8.3  Identify sources of information that provide procedures for treating those affected by poisonous substances.
9     LO9: Know how to provide first aid to an infant and a child who has been bitten or stung
9.1  Describe how to recognise the severity of bites and stings to an infant and a child and respond accordingly
9.2  Describe how to recognise and treat bites and stings