Online Family First Aid Course



This ProTrainings online course is designed to deliver first aid knowledge to help individuals to deal with emergency situations that may occur within their own home.

The course covers primary and secondary care skills for adults, infants and children, knowing what to do in an emergency is an excellent life skill to learn and the course covers many subjects that will help you to act quickly and confidently should the need arise.

How do I get started?
To start your
Family First Aid course click here
or if you have have any questions or would like to discuss group discounts or multiple course bookings please contact ProTrainings direct on 01206 805359 or
contact us
using our online form.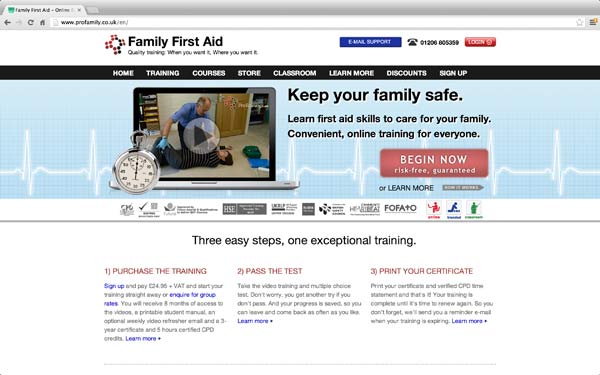 What is included?
All students receive access to their chosen course for up to eight months
Optional Free weekly video refresher
Certificate
Verified CPD time credit statement
Reminder when your course is due for renewal

Groups Discounts
Groups purchasing multiple courses will qualify for discounted course rates, please call the ProTrainings sales team direct on 01206 805359 to discuss how they can help you with your training requirements.
Curriculum:
Introductory First Aid Training

Fears of First Aid
Asking Permission to Help
Scene Safety
Chain of Survival
DRAB and the ABCDs
Initial Assessment and Recovery Position
Stop Think Act
Infant Recovery Position
Barriers
Face Shields
Hand Washing
First Aid Kit

Cardiac Arrest

Adult, Child, Infant CPR
Adult CPR Hand Over
Compression Only CPR
AED Introduction

Heart Attack and Stroke

Heart Attack
Aspirin for Heart Attacks
Stroke

Choking Training

Conscious and Unconscious Adult Choking
Conscious and Unconscious Child Choking
Conscious and Unconscious Infant Choking

Bleeding Control

Types of Bleeding
Serious Bleeding
Embedded Objects
Plasters
Other Injuries

Secondary Care Ongoing Assessments for Injury and Illness

Illness Assessment
Adult Fractures
Pediatric Head Injury
Eye Injuries
Spinal Injury
Allergic Reaction and Auto-Injectors
Burns
Heat and Cold Emergencies
Shock
Epilepsy
Febrile Convulsions
Electrocution