Online Fire Safety Awareness / Fire Safety Principles Level 1 & Level 2




This level 1 course is aimed at anyone who requires a course in fire safety. The course is designed to meet and comply with the Regulatory Reform (Fire Safety) Order 2005. It covers regulations, the fire triangle, evacuation, fire equipment, good housekeeping, the law, training requirements, calling the fire service, fire doors, smoke alarms, risk assessing and precautions. We also offer a Level 2 course that training for Fire Wardens and Fire Marshals.
This course is ideal to give all members of staff basic fire training to increase awareness and cooperation in the event of a fire in the workplace. Awareness will reduce the risk of fires actually breaking out and therefore save lives.
These courses can be completed 100% online or if you would like a QCF accredited certification the online course is identical however you would need to attend at one of the ProTrainings regional centres to complete the examination.
The content of this and all our courses has been independently certified as conforming to universally accepted Continuous Professional Development (CPD) guidelines and come with a Certified CPD Statement as well as a ProTrainings Certificate and for online courses an Evidence Based Learning statement.
This is not a powerpoint-based course, it is delivered via a series of short informative videos giving you 1 on 1 training with a professional instructor without the distraction and the inconvenience and cost of attending a classroom course. You will be asked a series of questions throughout the course to test your knowledge as you go and there is a short test at the end which you complete before printing out your certificate and CPD certified time credit statement..
How do I get started?
To start your Online
Fire Safety Awareness Level 1
or
Fire Warden / Fire Safety Principles Level 2 Course
click on the link, if you have any questions or would like to discuss group discounts or multiple course bookings please contact ProTrainings direct on 01206 805359 or
fill out our online form.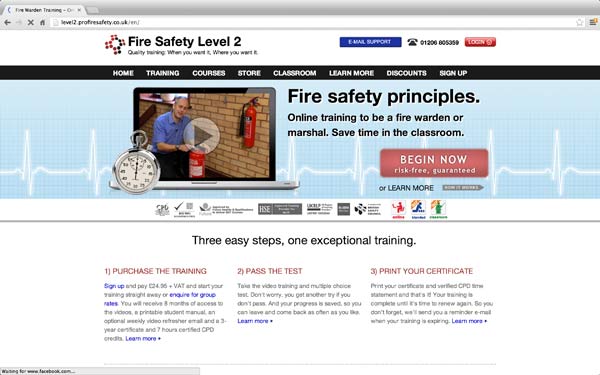 What is included?
All students receive access to their chosen course for up to eight months
Free digital student manual
Optional free weekly video refresher
Certificate (QCF Approved if selected)
Verified CPD time credit statement
Reminder when your course is due for renewal
Companies receive an interactive dashboard where they can monitor all of their employees training on the system
Companies also receive their own dedicated account manager
Groups & Business Discounts
Groups and business purchasing multiple courses will qualify for discounted course rates, please call the ProTrainings sales team direct on 01206 805359 to discuss how they can help you with your training requirements.
Curriculum:
Introductory First Aid Training

Fears of First Aid
Asking Permission to Help
Scene Safety
Chain of Survival
ABCD's
Initial Assessment
Stop Think Act
Differences in Child Size
Barriers
Face Shields
Hand washing and hand gels
Adult Bag Valve Mask (optional)

Cardiac Arrest

Adult, Child, Infant CPR
Adult CPR Hand Over
Compression Only CPR
AED

Choking

Conscious Adult, Child, Infant Choking
Unconscious Adult, Child, Infant Choking