Online Health and Safety Level 1 and Level 2 Courses




The Health and Safety Level 1 and Level 2 courses are available as a 100% online course, or as a Blended QCF accredited course where you would be required to attend to complete the written examination, in most cases this level of qualification is not required therefore the course can usually be completed online. If you are a company and would like a trainer to come to you to deliver the Level 1 or 2 Health and Safety Course please call 01206 805359 or click here for more information

These courses are aimed at anyone who requires a course in health and safety awareness. It is designed to meet the Health and Safety regulations and covers regulations, precautions, planning, risk assessing, PPE, individual sectors, what causes accidents, employer/employee responsibilities, RIDDOR, COSHH, first aid, workstation/VDU safety, working at heights, gas safety, occupational health, infection control, electricity, enforcement and the dangers and links in the regulations in fire and manual handling.

The content of this and all ProTrainings' courses has been independently certified as conforming to universally accepted Continuous Professional Development (CPD) guidelines and come with a Certified CPD Statement as well as a ProTrainings Certificate and for online courses an Evidence Based Learning statement.
How do I get started?
Select Health and Safety Awareness Level 1 or Health and Safety Level 2 if you have have any questions or would like to discuss group discounts or multiple course bookings please contact ProTrainings direct on 01206 805359 or complete our our online form.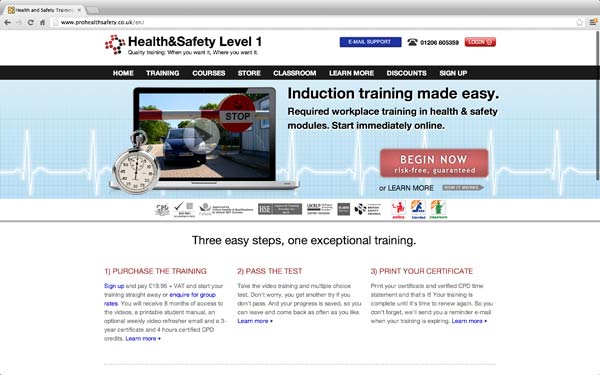 What is included?
All students receive access to their chosen course for up to eight months
Optional Free weekly video refresher
Certificate (QCF with optional add on)
Verified CPD time credit statement
Reminder when your course is due for renewal
Companies receive an interactive dashboard where they can monitor all of their employees training on the system
Companies also receive their own dedicated account manager

Groups & Business Discounts
Groups and business purchasing multiple courses will qualify for discounted course rates, please call the ProTrainings sales team direct on 01206 805359 to discuss how they can help you with your training requirements.

Curriculum Level 2:
Introduction and Regulation

Health & Safety and it's importance
What causes accidents?
Health and Safety Law
Employee and Employer Responsibility

Prevention of Accidents

Why prevention is important and what can be done
Risk Assessments
Assessing risk - high and low risk
What is a hazard 
Personal Protective Equipment
Substances dangerous to health - COSHH
Portable gas appliances
Safety Signs
Correct lighting

When an accident happens

First Aid Provision
Training Requirements
Basic First Aid Advice
RIDDOR and accident reporting
Work place policies and procedures
Equipment in the workplace and how you can get hurt

Specific areas of health and safety training

Formal Risk Assessment
Fire Triangle
Calling the fire service
Evacuation Procedures
Fire Good Housekeeping
Electricity
Manual Handling
Slips, Trips, and Falls
Workstation and VDU safety
Working at Heights
Occupational Health
Infection Control
Fork lift trucks
Noise and vibration
Hoists, cranes and lifts
Ventilation

Summary of Health and Safety

Workplace and personal safety
Enforcement of health and safety regulations
What you need to remember and what to do next
Learning Outcomes
1     Understand roles and responsibilities for health, safety and welfare in the workplace
1.1  Outline employers and employees duties relating to health, safety and welfare at work
1.2  Outline the consequences for non-compliance with health and safety legislation
1.3  Outline the requirements for training and competence in the workplace
1.4  Outline the ways in which health and safety information can be communicated
2     Understand how risk assessments contribute to health and safety
2.1  Define the terms 'hazard' and 'risk'
2.2  Outline the process for carrying out a risk assessment
2.3  Describe how risk assessment can be used to reduce accidents and ill health at work
3     Understand how to identify and control the risks from common workplace hazards
3.1  Describe the hazards that may be found in a range of workplaces
3.2  Describe how hazards can cause harm or damage to people, work processes, the workplace and the environment
3.3  Describe the principle of the risk control hierarchy
3.4  List examples of risk controls for common workplace hazards
4     Know the procedures for responding to accidents and incidents in the workplace
4.1  State the common causes of workplace accidents and ill health
4.2  Identify the actions that might need to be taken following an incident in the workplace
4.3  List the arrangements that should be in place in a workplace for emergencies and first aid
4.4 Outline why it is important to record all incidents, accidents and ill health