Safeguarding of Vulnerable Adults Online Course


Safeguarding Adults is delivered over one three hour session. The course aims are to promote awareness of what constitutes abuse and neglect, promote understanding of the different types of abuse and neglect, promote understanding of what makes individuals vulnerable, promote understanding of what disclosure and whistleblowing are, and detail legislation relevant to Safeguarding of Adults.

By the end of this session, candidates will be able to identify types of abuse, identify when abuse has happened/is happening, understand how to report and record issues that may be witnessed or disclosed, and understand how to help prevent abuse and neglect..
The content of this and all our courses has been independently certified as conforming to universally accepted Continuous Professional Development (CPD) guidelines and come with a Certified CPD Statement as well as a ProTrainings Certificate and for online courses an Evidence Based Learning statement.
This is not a powerpoint-based course, it is delivered via a series of short informative videos giving you 1 on 1 training with a professional instructor without the distraction and the inconvenience and cost of attending a classroom course. You will be asked a series of questions throughout the course to test your knowledge as you go and there is a short test at the end which you complete before printing out your certificate and CPD certified time credit statement.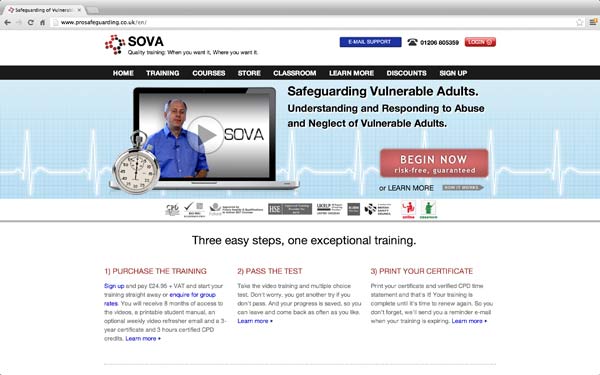 Learning outcomes:
To understand what is abuse and neglect
To be able to identify the types of abuse and neglect
To know who is at risk
To understand what makes individuals venerable
To understand the laws and regulations
To understand who commits abuse
To be aware of indicators of the different types of abuse
Reporting abuse and whistle blowing
How do I get started?
To start your
Safeguarding Vulnerable Adults Online Course click here
, if you have any questions or would like to discuss group discounts or multiple course bookings please contact ProTrainings direct on 01206 805359 or
fill out our online form.
What is included?
All students receive access to their chosen course for up to eight months
Free digital student manual
Optional free weekly video refresher
Verified CPD time credit statement
Reminder when your course is due for renewal
Companies receive an interactive dashboard where they can monitor all of their employees training on the system
Companies also receive their own dedicated account manager
Groups & Business Discounts
Groups and business purchasing multiple courses will qualify for discounted course rates, please call the ProTrainings sales team direct on 01206 805359 to discuss how they can help you with your training requirements.
Curriculum Includes
What is SOVA? 
CQC or Care Quality Commission
Discriminatory Abuse and the Human Rights Act 
The Human Rights Act 1998 
Protection from Harassment Act 1997 
The Sexual Offences Act 2003
The Mental Capacity Act 2005
The safeguarding vulnerable groups act 2006
The Mental Capacity Act and Deprivation of Liberty Safeguards principles 
Who Is A Vulnerable Adult
Abuse And The Indicators Of Abuse
Physical Abuse
Psychological Abuse
Sexual Abuse 
Financial Abuse
Neglect Self Neglect and The Act Of Omission
Institutional And Discriminatory Abuse
Facts And Information About Abuse 
Consent 
Disclosure