Online Sports First Aid Course



This course is aimed at anyone who requires a course in sports first aid. The course is available as a classroom, blended or online course. The certificate is valid for 3 years and a recommended annual refresher can be done online.
This course covers basic first aid and is aimed at people who need first aid who work in various sports sectors. It not only covers basic first aid but also all the specific problems that arise in sports. Primary and secondary subjects are covered, including soft tissue injuries, head injuries, types of cuts, and many illnesses that could arise.
This course comes with 5.0 hours of CPD, although the time to complete the course online may be less than this. Total course time includes 3 hours and 47 minutes of video training as well as knowledge reviews, final test, remedial help and reviewing downloaded material.
The content of this and all our courses has been independently certified as conforming to universally accepted Continuous Professional Development (CPD) guidelines and come with a Certified CPD Statement as well as a ProTrainings Certificate and for online courses an Evidence Based Learning statement.
What is included?
Optional Free weekly video refresher
Free digital Student Manual
Useful downloads
Certificate
Verified CPD time credit statement
Reminder when your course is due for renewal
How do I get started?
To start your online
Sports First Aid Course click here
if you prefer to discuss the course please call 01206 805359 or complete our online course enquiry form by
clicking here
Groups & Business Discounts
Groups and business purchasing multiple courses will qualify for discounted course rates, please call the ProTrainings sales team direct on 01206 805359 to discuss how they can help you with your training requirements.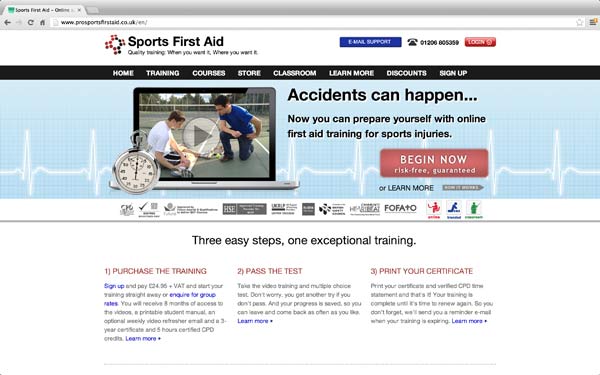 Curriculum Includes:
Introductory First Aid Training

Fears of First Aid
Asking Permission to Help
Scene Safety
Chain of Survival
DRAB and the ABCDs
Initial Assessment
Stop Think Act
Barriers
Face Shields
Adult Bag Valve Mask (optional)
First Aid Kit
Cardiac Arrest

Adult and Child CPR
Adult CPR Hand Over
Compression Only CPR
AED
Choking Training

Conscious and Unconscious Adult Choking
Conscious and Unconscious Child Choking
Bleeding Control

Types of Bleeding
Serious Bleeding
Plasters
Other Injuries
Secondary Care Ongoing Assessments for Injury and Illness

Illness Assessment
RICE - Strains and Sprains
Adult Fractures
Pediatric Head Injury
Eye Injuries
Spinal Injury
Dental Injuries
Anatomy of an Injury
Allergies
Burns
Heat and Cold Emergencies
Shock
Diabetes
Asthma
Epilepsy
Adult Seizures
Febrile Convulsions
Electrocution